Business Skills
Coaching and Mentoring for Improved Performance
Corso di Coaching e Mentoring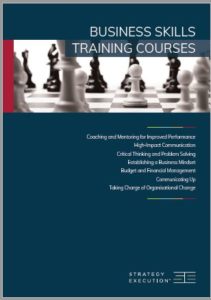 Delegare in maniera efficace può contribuire a migliorare le performace e aumentare l'efficienza aziendale. Al termine del corso apprenderete i modelli e gli strumenti del coaching comportamentale e del mentoring che miglioreranno la qualità del vostro coaching assicurando risultati durevoli. Attraverso esercizi pratici, discussioni di gruppo e case studies, sarete in grado di definire a chi e come delegare le attivita'. Urante il corso ogni partecipante potrà fare un assessment del proprio stile di coaching, apprenderà a gestire in modo efficace le situazioni difficili e potrà condividere con un esperto del settore le criticità legate alla propria attività.
Il corso sviluppa le competenze essenziali del buon coach: ascolto, osservazione, comprensione, la capacità di porre domande e fornire un feedback. Il corso si inserisce all'interno del curriculum Strategy Execution International di Business Skills, un percorso specifico e finalizzato a fornire le skill indispensabili pewr gestire progetti di successo.
Questo corso è indicato ai talenti che si trovano in fase di transizione verso ruoli di leadership e manageriali e per questo necessitano delle competenze per sviluppare un corretto approccio di coaching e mentoring verso il team.
Corso progettato per migliorare la qualità, l'efficienza e l'efficacia del coaching e quindi contribuire positivamente alle performance del team.
Delegare in modo efficcace
Fornire un feedback focalizzato a migliorare le performance
Superare situazioni critiche
Applicare un modello strutturato di coaching & mentoring
Applicare tecniche per valutare le performance
Associate certificate from Strategy Execution and Duke Corporate Education
Masters certificate from Strategy Execution and Duke Corporate Education
PMI's CAPM certification
PMI's PMP Certification
Perchè fare Coaching
• I benefit del coaching
• L'impatto del coaching
• Strategy Execution International mindset model
• Dichiarazione di intenti
• Coaching&mentoring
Il modello di Coaching & Mentoring
• Determinare lo stile più adeguato
• Stili di coaching
• Azioni di coaching
La preparazione
• Autovalutazione del proprio stile di coaching
• Gli stili di apprendimento
• Fissare le aspettative
• Creare un piano
Il coaching
• Allineare lo stile di coaching al livello di performance
• La delega
• Guidare e orientare le performance
• Valutare le performance
• Fornire un feedback
• Gestire le problematiche in maniera efficace
Job and Career Coaching
• Qual è la differenza
• Job proficiency e job mastery
• Tecniche per gestire le performance
Questo corso è disponibile presso le aziende clienti, in modalità in-house, per gruppi di più partecipanti.
Per approfondire e valutare insieme le opportunità offerte dalla formazione in-house, cliccare qui
Trainers d'eccellenza e programmi di alta qualità
Il training altamente qualificato, la metodologia esclusiva e il supporto di una infrastruttura globale garantiscono alle aziende clienti di sviluppare skills e competenze di elevato spessore per i propri manager, di implementare piani strategici e incrementare l'efficacia dei propri sistemi e processi interni.
I contenuti sempre up-to-date, soggetti a un esame rigoroso e adattati per riflettere pratiche e esigenze in continua evoluzione, hanno contribuito a creare una forte tradizione di eccellenza accanto alla reputazione di azienda leader nella formazione e consulenza su Project Management ,Business Analysis, Agile Project Management
I Professional Certificates della Duke Corporate Education
Grazie a una forte partnership accademica con Duke Corporate Education, Strategy Execution fornisce Associate's Certificates, Master's Certificates, Advanced master's Certificates e professional certificates riconosciuti a livello internazionale e che costituiscono per ogni professional il modo per distinguersi ed eccellere nel marketplace
Referenze
I Corsi Strategy Execution sono allineati con il PMBOK ® (Project Management Body of Knowledge) del PMI® e il BABOK ® (Business Analysis Body of Knowledge) dell'IIBA®'.
Ciò significa che grazie alla partecipazione ai nostri corsi è possibile ottenere una certificazione riconosciuta a livello internazionale.
Solide credenziali
Un rigoroso programma di formazione accademica sostenuto da Duke Corporate Education.
Siamo Registered Education Provider di PMI® (Project Management Institute) e di IIBA® (International Institute of Business Analysis)
Siamo un provider per programmi di formazione continua autorizzato da International Association for Continuing Education and Training (IACET)
I corsi Strategy Execution sono raccomandati da The American Council on Education's (ACE) College Credit Recommendation programme (CREDIT), per i crediti universitari
Dedicati al cliente
I nostri Consulenti sono a vostra completa disposizione per supportarvi nella scelta dei corsi che meglio rispondono alle esigenze aziendali e agli obiettivi di carriera o per aiutarvi a pianificare il percorso per la certificazione.
Sede dei corsi
In Italia i corsi public
Formazione on line
Strategy Execution e-Training vi permette di aggiornarvi in modo facile, interattivo e conveniente.
I nostri corsi online mantengono lo stesso standard elevato dei nostri corsi in aula, sono altamente interattivi e si arricchiscono di numerosi case studies. Sono una modalità ideale per la formazione di team virtuali, dislocati su diverse sedi.
I nostri formatori
Strategy Execution ha oltre 450 docenti e consulenti Worldwide. Per una maggiore aderenza alla realtà italiana, i nostri docenti sono selezionati localmente, attraverso un accurato processo di selezione (solo uno su 37 potenziali candidati viene selezionato per diventare un docente qualificato Strategy Execution) e sono rigorosamente monitorati nella loro capacità di insegnamento e di erogazione dei contenuti.
Un approccio molto pratico combinato con una forte competenza e una pluriennale esperienza maturata sul campo garantiscono la qualità della formazione Strategy Execution.
Per maggiori informazioni:
e-mail: solutions@strategyex.it
Tel: 02.83847.263
Informazioni Corso
| Professional Development Units | 22.5 |
| --- | --- |
| Technical Project Management PDUs: | 00 |
| Leadership PDUs: | 22.5 |
| Strategic & Business Management PDUs: | 00 |
Durata:
Prezzo: €
Prezzo On Line: €
Training Onsite disponibile